Make Your Money Work for You!
The 13 Display Ads Campaign Mistakes to Avoid
How many times have you heard this "expert" piece of advice ‒ configure ads according to the Google recommendations, and your Display Ads campaign will work like a charm. Anyone who knows the hidden pitfalls of Google in setting contextual advertising will call it ridiculous. Today, we've decided to single out the 13 most common mistakes, due to which marketers waste their advertising budgets.
Without further ado, let's refine your Display Advertising strategy! So mistake number one is…
1. You assume Google knows better
Google Ads optimization score is one of the tricks Google uses to make money. Here is a simple example. Supposing your advertising budget is $30 a day. Google will recommend you boost the effectiveness of your Display Ads campaign by increasing your budget to $640 a day. Clearly, this recommendation won't work for you. Therefore, it's a very bad idea to entrust the management of your Display campaigns to Google.
2. You do not expand your Display Ads targeting reach
The rule of thumb when it comes to contextual advertising is that the ad that the user sees and the page to which they go should meet their request (unless you configure complex campaigns for near-topic requests, but this is rather an exception). And this rule brings up the first global mistake while setting up a campaign.
When you create an ad group in the Display Network campaign, the system automatically expands the reach of your Google Display Ads to more relevant customers, they call it "more conservatively".
So even if you've selected a certain targeting, Google will show your ads to another audience if it considers this more effective for your business (machine learning, all things).
Three ways how to fix this if you have an ineffective result:
#1 Use Google Ads Editor
If you've already created the Display Ads campaign and many groups, download the Google Ads editor (this is a free application), load the campaigns, select them. Next, go to the Ad groups tab, scroll through the right panel, find Targeting extension, and set for all groups Disabled.
Then the system will definitely show ads only to the audience preferred by you.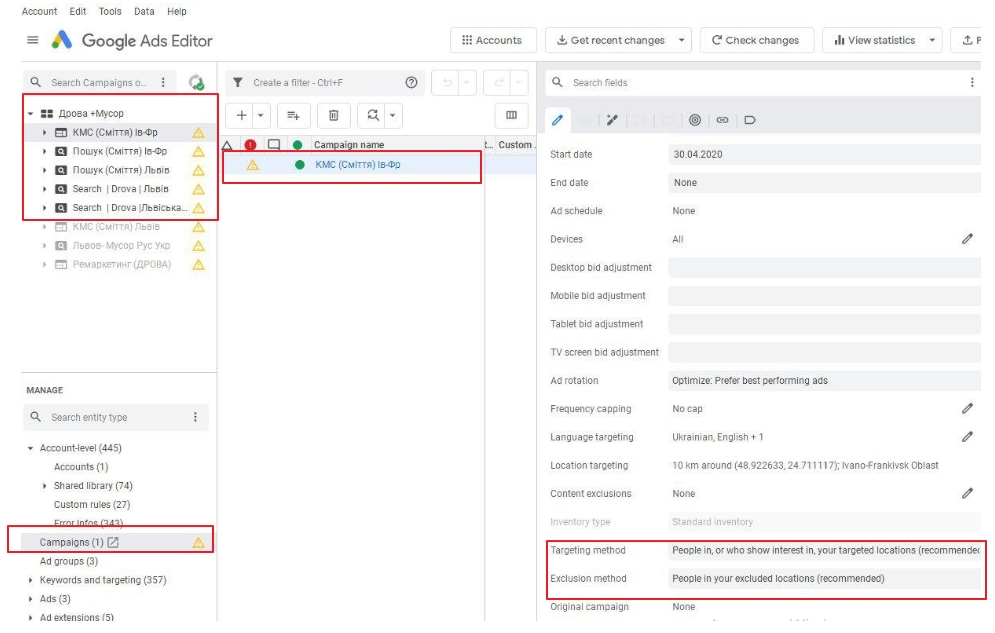 Upon making the changes, publish the data so that it goes to the server and applies to the selected ad groups.
#2 Change Display Ads targeting manually
Another way is to do it manually in your account. Open the Display Network campaign, Ad Group, switch to the tab with your targeting, click the plus, and select Change ad group targeting.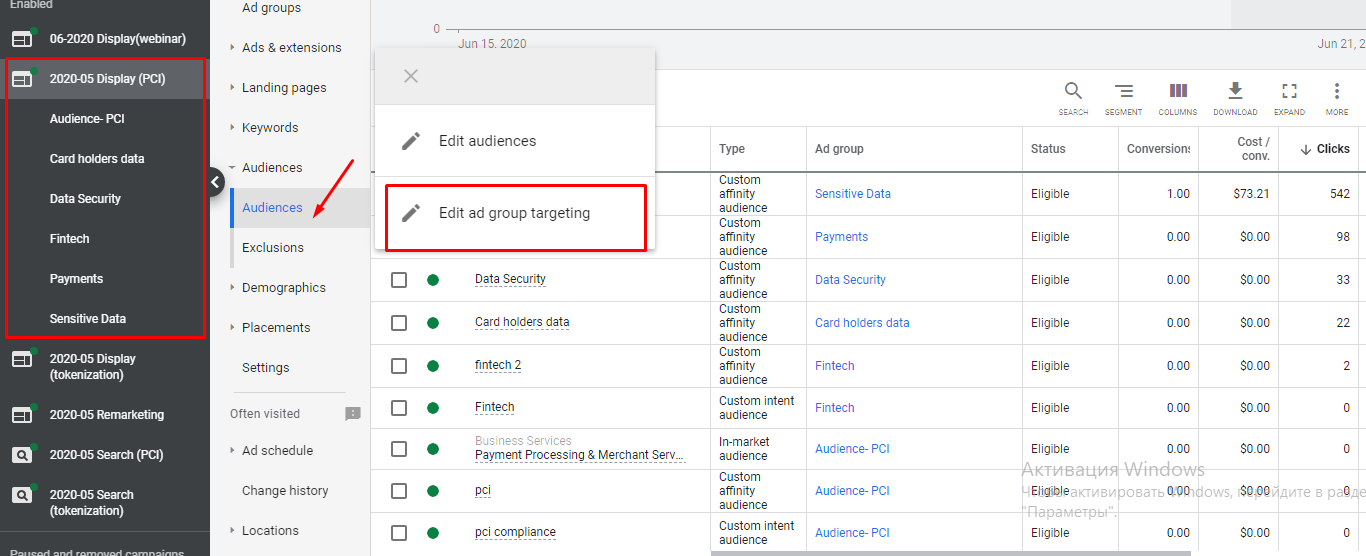 Next, go down and find the Targeting extension block. You need to move the slider to the left to disable this function. And in the same block, you can see approximately how your reach would increase had you used different levels to expand targeting.

After this, click Save.
#3 Use machine learning
To optimize your Display ads, try additional tools like RecommendMe. This app uses machine learning to help you identify areas of improvement in your campaign, including things like advanced targeting. A great benefit of using RecommendMe is efficiency. You will be able to implement the system suggestions in one click without the need to go deep into Google Ads campaign settings.
3. You attract everyone so that at least someone would make an order
If you don't know your target audience, your competitive advantages, and those of your competitors, what kind of ads will you end up showing? Let's look at an example with popular products ‒ sneakers, who buys these and why.
A stylish girl from a popular fitness club is looking for new trendy sneakers. A young mother from a small town is looking for inexpensive, practical sneakers. An older lady in her sixties is looking for just sneakers, she hardly knows how to use the search. Everyone seems to be looking for the same product ‒ sneakers, but everyone does it differently.
Before the start of the advertising campaign, study your target audience, competitors, the promoted product, and the mechanism for its purchase as deeply and meticulously as possible. This must be done before setting up and selecting keywords. Before you move on to advertising, deal with marketing.
4. You combine Display Network and Search Network
Don't do it even if you want to increase reach and attract more leads to your funnel from all over the Internet.
Upon creating a new campaign, you'll receive a recommendation from Google to run it on both Search and Display Network to immediately achieve higher reach.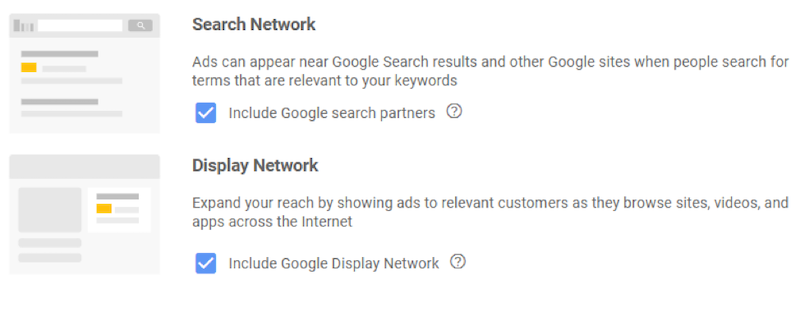 It seems convenient if you don't have time to delve into a large number of campaigns and ads. However, consider the users' intentions. When user John goes into the search engine and enters his query, he shows a stronger buying intent compared to a user Mary who simply noticed an ad on some website.
Both networks show significantly different CTR, CPC, and conversions. To analyze display and search campaigns more conveniently, separate them. To benefit from users deep in the funnel, it will take more than just increasing reach.
5. You use remarketing audiences in ad reach campaigns
A message that is intended for someone who already knows you should be different from what you want to convey to a person not yet familiar with your brand.
Typically, remarketing campaigns are aggressive because they encourage a person to take a specific action. The reach campaign works with the top of the funnel traffic. Therefore, a tip: try segmenting your audiences on a "by campaign" basis: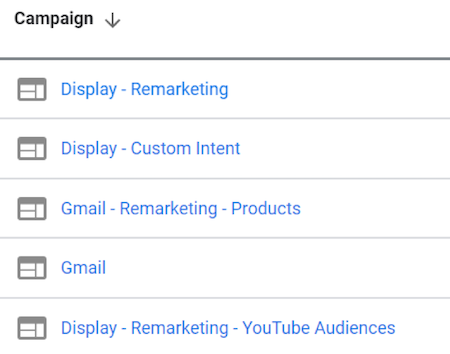 The audiences of those who first encountered your brand, and who already saw your content, show different metrics. Since you control budgets at the campaign level, the principle that works best is "divide and conquer". It will simplify controlling the effectiveness of each particular campaign.
To support narrow segmentation, you can use remarketing audiences as exceptions for reach campaigns. If you want your users to take a specific action, you don't need your ads to do anything else.
In addition to remarketing audiences, add lists of users who have taken certain actions to maintain the maximum narrowness of segmentation. It will be easier for you to control your creatives, landing pages, and budgets, as well as optimize spending.
6. Your Display Ads targeting is too broad
Google Display Network lets you benefit from various Display Ads types. The two basic categories here are Audience targeting and Content targeting. The main mistake when launching advertising in Display Network is choosing too broad targeting, say, by topics. With this setting, the campaign reaches a huge audience, most of whom won't buy from you any time soon.
Utilize broad Display Ads targeting to address media and brand challenges, such as raising awareness. However, in order to target the most loyal audience, choose more specific targeting, like custom intent, similar audiences, or placement. You can also specify sites where you want to show ads. And this is the best solution for advertisers with small budgets.
7. You don't use content exclusions
Setting content exclusions enables you to remove sites with irrelevant content from the display.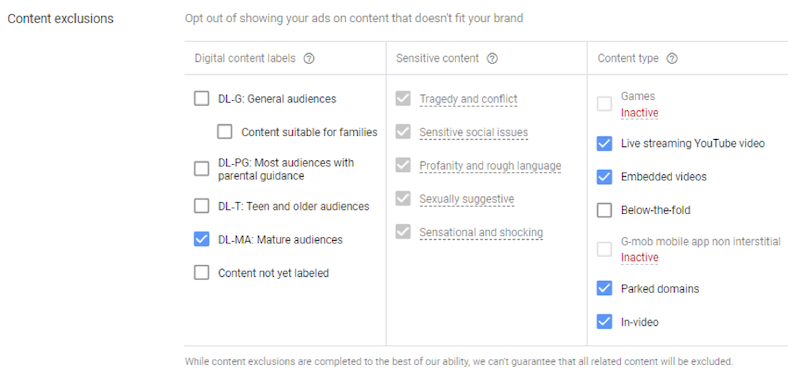 Brands may try to exclude their own ads from showing on sites, on YouTube, or in applications that are associated with a particular type of content. If you look at the central column of the screenshot above, you will see the selected settings for confidential content. Look at your options and exclude sites that are not suitable for you.
8. You use negative keywords in only one form
Another common mistake is adding negative keywords or phrases in only one form. The thing is, Google Ads only considers negative keywords with an exact match. Supposing, your product is a digital calendar. If you add a negative keyword "free" or "cheap" to exclude irrelevant combinations with "calendar", it won't be enough because you might still get unwanted traffic from phrases like "Mayan calendar" or "printable calendar".
To avoid such inappropriate impressions, you need to get creative and come up with as many negative keyword combinations as you can.
9. You ignore placements
Or you spend too much time analyzing placements, it's no good either. Display Ads statistics can reveal valuable data, so make a plan to keeping track of where your ad appears.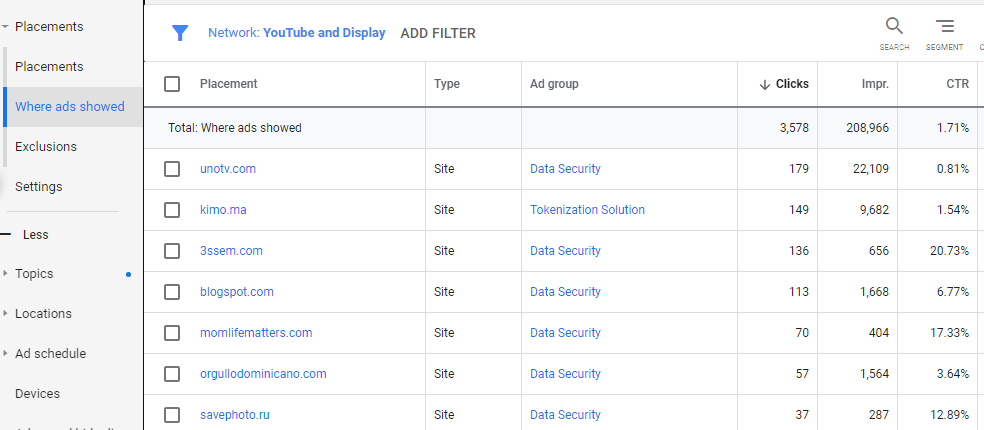 Here, advertisers can select the appropriate section. If you haven't implemented advance exclusions as mentioned above, you will see "wide" and potentially ineffective ad placements in the report that you can remove.
Finally, in order to run your campaign like a professional PPC specialist, you'll have to get back to such reports regularly to monitor the effectiveness of Display Ads metrics and track placement on different sites. Or you can save time by entrusting this job to machine learning. RecommendMe will monitor campaigns for you and let you know when it's time to adjust settings.
10. You don't configure display frequency
Ignoring these settings may result in your ad driving people crazy. If the same ad will stalk the target audience every day for a month, the users will get furious by the mere mention of your brand. That's not the best way to start a fruitful relationship.
Limit display frequency to 5 times per ad group if your campaign has multiple groups that differ by the ads text/ ads banner. This means that your ad on the Display Network will not be shown to the same user more than 5 times.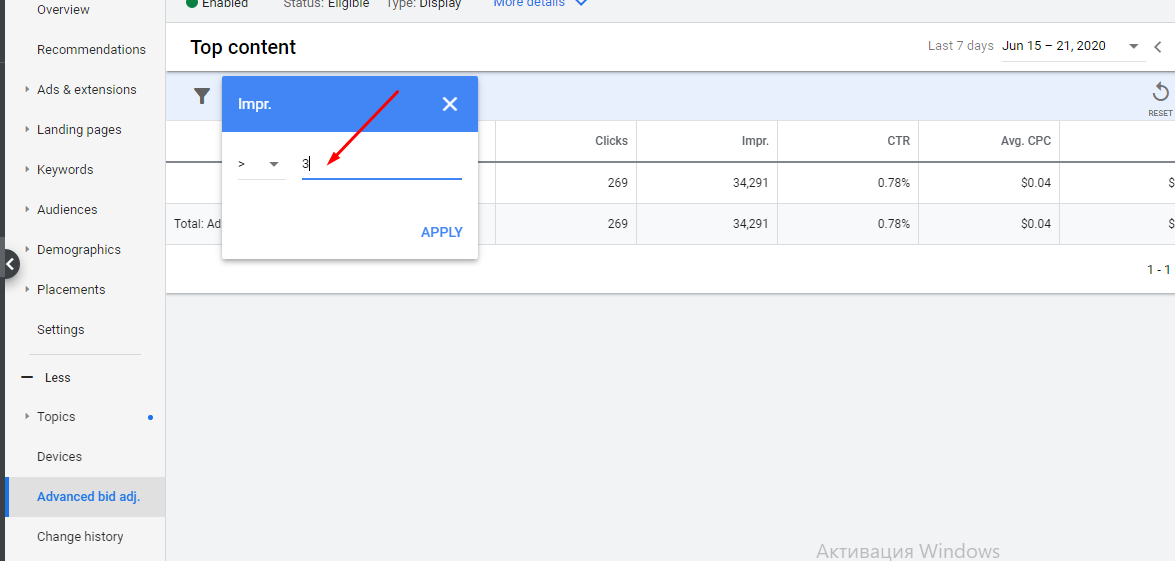 How to check for yourself: Choose a campaign under the Display Network, go to the Settings tab. Find Additional Settings, click on Frequency capping. Enter the number of impressions, select a time interval and click Save.
11. You track only direct conversions
You shouldn't evaluate the effectiveness of the Search and Display Network equally. It's possible to get a lot of direct conversions from a campaign by combining a laser-focused targeting and an amazing creative. Yet, lots of businesses might not notice direct conversions Display Network ads.
This occurs for several reasons, such as a long sales cycle or an expensive product. Just because you don't see a conversion doesn't mean that the ad isn't working.

Change your columns in Google reports to see whether there are any conversions. The two columns that come to mind are View-through Conversions and Cross-device Conversions. The first option is taken into account when the user saw your ad, didn't click on it but completed the target action. The second is when a person interacted with advertising on one device but converted through another.
Your ads can have a greater impact on conversions than you think. Therefore, if you only track direct conversions, chances are you're missing many things.
Most people won't come across your ad, won't click on it, and won't make a purchase. If you believe in using Google Ads only for the sake of a direct call to action, you need to rethink your performance assessment.
12. You think that one Display Ads targeting option is enough
The problem with many companies is that they use the same targeting option for a long time and never try anything new. Even if it seems that this standard targeting works well on several campaigns, there's always the potential to achieve more. Creating a custom audience in the Audience Manager tool will help you. You will find several ideas that you can test.
13. You don't optimize your Display campaigns overall
You can set up advertising and it will work well, but after some time, there might appear new competitors in the market, the season will go low, or some ads will work worse. And that's when optimization will help!
Thanks to the analysis of the results of advertising campaigns, you will surely find new negative keywords, and you will also see:
which ads need refinement and which keywords lead you to untargeted traffic;
non-targeted sites where you simply get clicks, but not conversions;
user actions that vary depending on the time of day, etc.
You can really save the budget and get more targeted actions through the optimization of Display campaigns.
Conclusion
Google Ads can bring tremendous results for any business if used right. So before you convince yourself that Display Advertising doesn't work for you, make sure you aren't making these mistakes. And if you want to get maximum results with a minimal budget, leverage the AI-powered tools like RecommendMe that will help you optimize Display Ads campaign in just a few clicks.