Dynamic Search Ads: What you Have to Know to Leverage DSAs
Dynamic Search Ads (DSAs) is a killer way to skyrocket your conversions. It really works, especially in cases when you feel that the keywords can't cover all the possible queries, or new products are often added to your website. However, to make the most of DSA AdWords and achieve your advertising goals, you need to make some effort for their optimization.
In this article, we'll take a closer look at the DSAs and walk you through the process of setting the dynamic campaign up. Also, you're going to get the top tips for dynamic advertising management. Interested? Let's dive in!
What are DSAs
The DSAs appear in the search feed and look just the same as your regular text ads. However, they are triggered in a different way. This type of campaign doesn't use any keywords. Instead, it utilizes automated ad creation by matching the user's query to the content of your site. Google automatically generates the best headline for the ad copy and the link to the appropriate landing page.
Where DSAs work
You will definitely find the DSAs effective in a bunch of cases.
First, the DSAs work well with online stores that sell a considerable variety of products and their pages feature detailed descriptions. So what's the point? For big stores, it's hard to include each possible search term in your keyword strategy. Also, you're not likely to cover the entire stock with thousands of ads. By contrast, DSA AdWords generates ads based on your site's content, crawling your pages or product feed.
Secondly, Dynamic Search Ads are the top option for business pages featuring low search volume keywords. What makes DSAs special is that you can also use them for keyword research. Good news, right?
And, finally, you should try dynamic advertising if you feel that you don't achieve your advertising goals with regular text or display ads.
Why to Use DSA
You are going to reap the Dynamic Ads benefits when your goal is to reach specific audiences. In this case, the dynamic ads work far better than generalized keywords. Dynamic Search Ads are focused on search queries that represent the actual searching goals of the users. That's great for boosting Click-Through-Rate (CTR) and improving your ads ranking. As a result, you'll get more qualified traffic through ads clicks and attract users who are most likely to convert.
However, keep in mind that the content of your site is vitally important if you want to enjoy dynamic ads benefits. Above all, the organic index of your site really matters.
Who to Use
The performance of the DSAs largely depends on the area of the business. Let's be honest: they won't work well in some cases. Yet, in certain areas of activity dynamic campaign will help you generate amazing results. You'll love dynamic advertising if you are:
an Online Shop

Take advantage of DSAs and soon you'll see how effective they are for your online store. Dynamic Search Ads cover all the possible search terms you might not have included in keywords groups. Thus, they help attract the audiences that are really interested in your products.

Running DSAs and analyzing their results will also give you information for further campaign optimization. You'll see how often users search particular items as well as how well they convert.

a Local Business

With local landing pages, it will certainly come down to targeting DSA locations. Be sure that dynamic ads will become your superstar. Why? It's natural that business owners want to make the best of their advertising budgets - keep them tight and efficient at the same time. This is especially true for small local brands or franchisees. They often have to make a difficult choice: either set a budget for each location or consolidate all locations. The thing is that both entail risks. The first case infers making additional investment. The second option has a risk of potentially ignoring some markets.

DSAs provide the third and obviously the best option for targeting DSA location. They give the opportunity to target the location page relying upon matching the search terms to the page's content. You don't need to create separate ad groups for each location. Great, isn't it?

a Real Estate Company

So how can you benefit from dynamic ads for real estate? It's not a secret that real estate businesses offer products that can dramatically vary in price. This calls for dynamic ads. For real estate, it is essential that your offers meet customers' buying opportunities and tastes. The users often type in the price range and other features of the property in the Google search box. It gives the Dynamic Search Ads the opportunity to automatically tailor your ads so they are relevant to the user.

a Car Trader

Likewise, the DSA campaigns can be fruitful for your car business. Imagine you're going to buy a car. It's quite natural that you will picture the colour of your future car, think of its price and most essential features. You will obviously start by narrowing your search to the cars that are most suitable for you. And that is how the dynamic ads work - they show your ad to the right customer without thinking of lots of possible keyword combinations. Dynamic Ads will get to the specific user who is most likely to convert.
How to Set Up DSA Campaign
In this section, we'll explain how to start a DSA campaign and adjust campaign settings. But before you start, take note of the following requirements which are necessary to make your dynamic campaign work.
Optimize your website
The quality of your website is crucial for DSA campaigns. Craft quality content, improve navigation, utilize eye-catching images and titles. Also, your website should be accessible to Google. Keep in mind that DSAs may appear on mobile devices, so make sure your mobile version works well.
Write descriptions for the ads
Within DSA campaigns, Google generates the most appropriate headlines for your ads. However, you should write the descriptions for your ad copies. Make them appealing to your potential customers so they are more likely to click on the ad.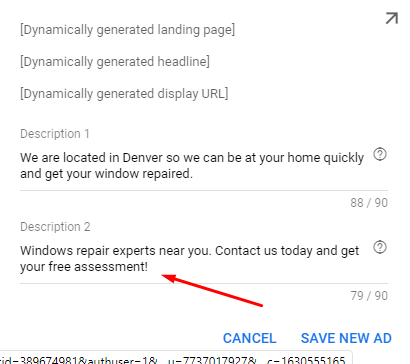 Create Single-language Campaigns
In case your website has several language versions, you should create a separate DSA campaign for each language.
Now that we are clear with some pre-arrangements, let's learn how to launch a DSA campaign.
In your account, select Campaigns and click the "+" button. Go on with selecting New Campaign. You will be offered several goal options. For campaign type, click Search. After that, you will have to select the results that you want to achieve within your DSA AdWords campaign.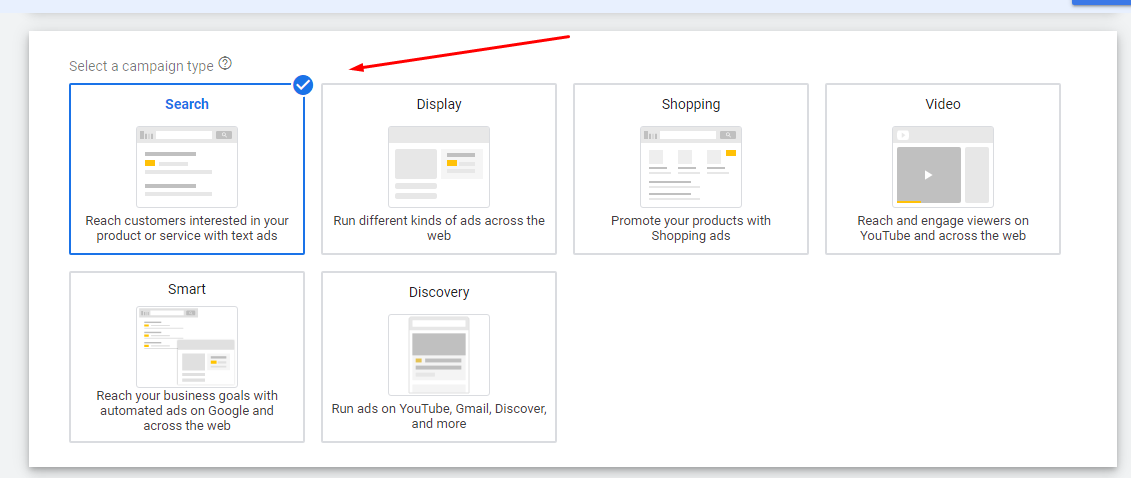 Your next steps will include giving your campaign a name, selecting a language, location targeting, and setting the budget for your dynamic campaign. In the Bidding column, go for an automated bid strategy. With this option, Google will automatically manage your bids. Then you'll have to enter the bid limit and also the budget you are going to assign for this DSA campaign. Establishing the bid limit is optional so you can skip this step.
Now go to General settings, extend the list and go for Dynamic Search Ad. Type in or insert your website address and choose the language. You're almost there! Click Save and Continue, and let's move to the next stage - creating a dynamic ad group and dynamic ad targets.
First, click Dynamic for Ad group type. Next, give your dynamic ad group a name. Now you'll have to figure out how you'd prefer to target your ads. To target specific pages, the DSA AdWords offers several options. So let's check them out.
Landing pages from your standard ad groups category
This option covers all the pages against which you're running ads. It will boost traffic on the landing pages within your current dynamic ad groups and campaigns.
Other categories
Google arranges your landing pages into categories based on their content. You just have to figure out which sets of pages you would like to target. Keep in mind that the categories will be created during the next 24 hours if your site is new to DSAs.
URL equals
This will let you target specific individual URLs.
URL contains
Target pages with URLs that contain certain strings.
Custom label
Create a list of webpages you wish to target using a page feed. Assign custom labels to the pages to categorise and target them according to these labels. For instance, you can go for customer ratings, themes, or locations. Beyond that, you can apply labels to exclude certain web pages from targeting.
Page title
Target pages with titles that include certain words.
Page content
With this option, you can target pages that include specific words.
All web pages
Can't decide which ads to target? All web pages option lets you target each page of your site that is accessible to Google search. The bad news is, it is likely to attract a lot of irrelevant traffic, so you should be careful with it.
When you're done with Dynamic Ads targets, there is one more thing to fix. Unless you have previously selected an automated bidding strategy, now you have to adjust your bid. Your bids should reflect the value of every target for your business as they determine when and where your ads appear.
Finally, create Dynamic Search Ads within your Dynamic Ads group. Click New Ad and select Dynamic Search Ad.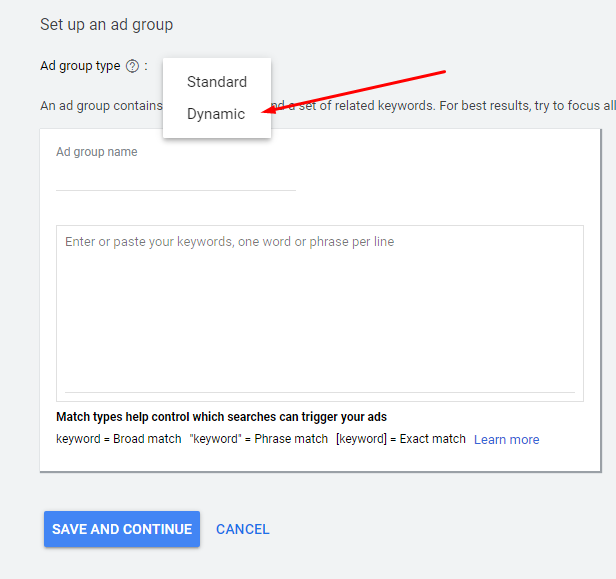 Google will automatically generate the headlines and URLs. Remember that you should enter a description text for your DSAs. You have up to eighty characters to write a creative description that will encourage the users to click.
How to Optimize DSA Campaigns
So now you know how to set up a DSA campaign and it's high time to learn how to leverage your DSAs. Let's go!
Optimize Your Landing Pages
Make sure you have excluded any pages of your website that aren't meant for your customers. Also, eliminate pages you don't want to promote by dynamic advertising. Keep your eye on your landing page performance with the help of the reports. They will give you clues about how to optimize the pages. You already know that in the DSA campaigns, search matches are based on an organic index. It means that you'll get valuable insights into further optimization opportunities since you'll see which pages Google finds relevant to specific queries.
Opt for Smart Bidding
You can also improve your experience of DSA campaigns if you choose Smart Bidding. Just let the artificial intelligence automatically optimize your bids for the best results. So how does it work? AI relies on the information about your previous conversions and analyses the performance of your ads.
For your DSA campaign, you can take advantage of either of the two bidding options, depending on your goal. If you want to focus on getting maximum conversions, use the target cost-per-acquisition (CPA) strategy. However, if you aim at generating more revenue, opt for target return-on-ad-spend (ROAS) bidding strategy. Both of them will offer automatically generated goals. Our advice is to stick to the goal suggested by the advanced machine learning. Keep track of your progress. If in a few weeks your goals are met, don't hesitate to set to target for achieving even higher results.
Elaborate a Clear Campaign Structure
The DSAs use auto-targeting towards specific ad groups. You can leverage this feature by creating the most possible detailed structure of your products. Create separate ad groups for each large category of items and add specific descriptions. This will help you gain more control over the ad copy.
Consider the Keywords
Since Dynamic Search Ads are aimed at providing the widest query coverage, they can also attract some irrelevant traffic. To avoid it, you can add negative keywords.
Negative keywords will prevent your advertising budget from being spent on irrelevant searches. So first of all, think of irrelevant terms, or utilize those ones that you already use in your other campaigns.
Next, set the top ranking keywords as negatives. Sounds insane, but you need to do it for a reason. Google doesn't match the users' queries to your dynamic ads in case they are identical to an exact match keyword in your account. But, on the contrary, phrase and broad match keywords will suffer because, as a rule, a dynamic ad copy has a higher rank. You don't want your DSA campaign to outperform your top phrase and match terms, do you? If not, just negate them in your dynamic campaign.
Finally, you already know that Google creates headlines for dynamic ads automatically. So if you sell heavily regulated products, we would recommend you negating their names to avoid possible confusion.
Attract Users by Special Offers
The DSA headlines are dynamically generated by Google so you don't have any control over them. However, you can take advantage of the description line and feature your promos or special offers in it. Such an ad copy definitely will draw more clicks.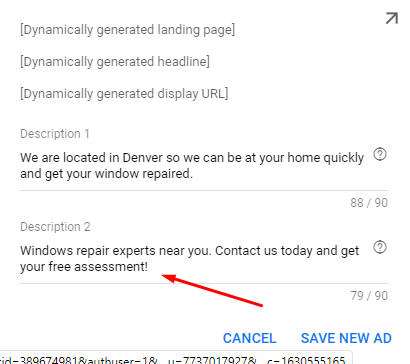 Keep your Eye on the Campaign
Here's our last but important tip: you should keep track of your dynamic campaign, especially for the first several days. Analyse search term reports to find possible gaps in the campaign and take steps to fix them.
Conclusions
In a nutshell, with the right DSA campaign settings, you can quickly reach your advertising goals. Keep an eye on your DSAs performance and make improvements where they are needed. Give our optimization tips a go and watch your conversions grow.
Remember: it's important to control the efficiency of your advertising efforts and prevent your campaigns from wasting the budget, no matter which type of Google Ads you use. Haven't got time for manual optimization? Visit RecommendMe and optimize your campaigns within a click.