The Most Effective Google Ads Tools for Your Small Business
Did you know that Internet traffic funneled through PPC advertisements brings around 50% more lead conversions than organic traffic? Google Ads is a powerful digital marketing tool that can skyrocket your business, but to see the real difference, you have to know your way around it. In this guide, we are going to share the most effective Google Ads tools for small business and actionable tips on how to make the best use of these.
Let's dive in!
Why use Google Ads for Small Business?
It's a very common question many business owners have. Your small business needs Google Ads to make sure people can find you in an abundance of options.
When a person is looking for a particular product or service in Google, be sure that their buying intent is pretty high. In this regard, Google Ads is super helpful as it nudges your potential customers to make a purchase.
There are many other Google Ads advantages for small business. For example, you might want to use it because of the intense competition when SEO is not enough. Google Ads dramatically increases your chances to be seen by putting your page in front of the people who are specifically looking for what you sell.
Investing in SEO is a great way to draw people to your site, but it takes quite some time. If you center your SEO efforts around just the right keyword phrases with a high commercial intent which are sure to attract new customers, you're going to see the results pretty soon.
Finally, Google Ads is a great way to get on the first page of the search results faster. You can wait until your SEO game starts bringing the first fruit, or you can pay Google to put you on top.
The most powerful combination would be to combine both. That's what will produce the most results. But even without SEO, Google Ads can help you capture the keyword phrases that are sure to transform into a business.
How to Reach the Target Customers?
Before you go all-in with your PPC efforts, research the market and adjust your advertising strategy so that you could find the right messages and the best audience for each country you expand into.
The easiest thing to make it work is location targeting. If you own a brick-and-mortar store, a restaurant, or any other business that relies on proximity, foot traffic, or deliveries, this is your must-use feature. Geotargeting allows you to target your ads to show up in front of the customers in a certain location, or set of specific locations.
The biggest advantage of geotargeting is efficiency. Your ad budget won't be drained by wasted clicks from people who don't live in your targeted area, and vice versa, more locals will be able to see your ads. Overall, it's the best way to get maximum value for money, speaking of which…
How much are you willing to spend?
How to Set a Campaign Budget for Small Business?
Everybody wants to know an average monthly advertising cost for Google business. The advertising budget is going to vary from business to business.
To set the correct budget for search advertising for a particular business, you can take the following steps:
gather the most targeted (hottest) keywords related to the business;
indicate clear geolocation where the advertising campaigns is planned;
using the keyword planner, calculate the approximate coverage and budget by uploading pre-selected keywords with the desired locations.
How to Identify Target Audience in Google Ads?
Audiences in Google Ads are groups of users you target based on their buying intents, demographics, and interests. Google Ads uses the two main networks: display and search. We're not going to get deep into it, but there are also a few other campaign types, such as Video and Hotel.
Display
It is used to help you capture user's attention very early in the buying cycle when they aren't necessarily want to buy right now but might change their mind in the future. The display network has lots of different ad formats and it spreads to more than two million websites, which is over 90% of all Internet users.
The audience types available:
Remarketing/Retargeting ‒ the users who've already visited or taken some action on your website.
Similar audiences ‒ the users with similar behavior as your existing audience list. Affinity and Custom Affinity ‒ the users you can target based on their habits and spheres of interest.
In-market and custom intent ‒ the users that are actively researching, browsing or comparing products or services similar to the ones that you sell.
Life Events ‒ the users amid important life milestones who are looking for specific products/services.
Customer Match ‒ your existing customers based on your CRM data.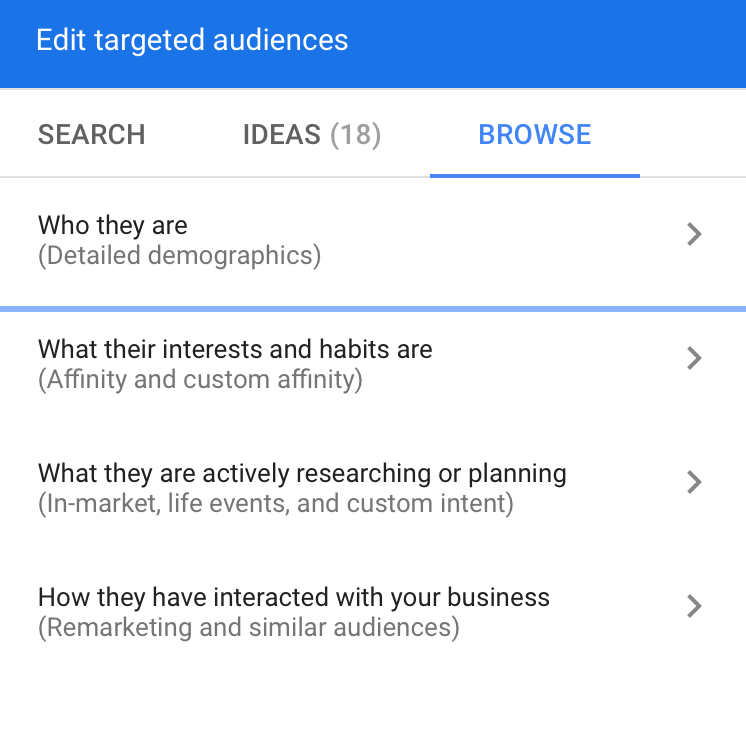 Search
This network is more specific as it reaches the users who are looking for a particular product or service with a clear intent to make a purchase. When you advertise on the search network, your ads appear next to the search results on Google and hundreds of other search partners.
The audience types available:
Affinity
In-market
Remarketing
Customer Match
Detailed demographics
This is one of the newest targeting options in Google Ads, which is available on both display and search networks. It allows you to target people based on lots of additional details:
parental status,
marital status,
education,
homeownership status,
employment.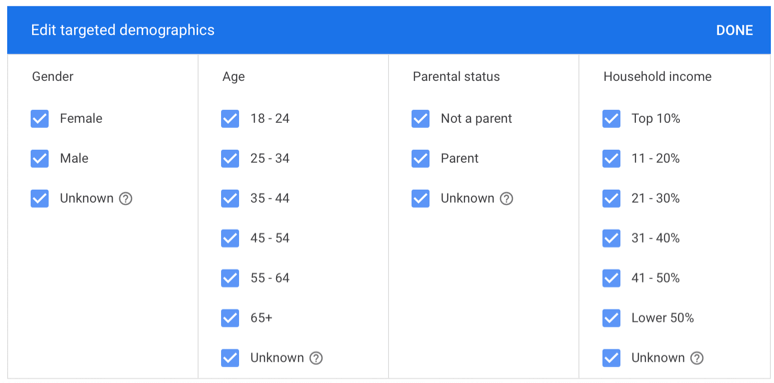 With detailed demographics, you'll be able to target customers that fit perfectly to your ideal customer profile. This is the maximum precision level you can get as of today.
A few bonus audience targeting tips to help you maximize the results
Study your existing customer base. It will give you a better idea about the kind of people who are most likely to do business with your company.
Check out other businesses. Use competitors' keywords/ URLs to create your own Affinity and custom intent targeting groups.
Make sure to use "similar audience" targeting features. It's going to give you some ideas on what demographics segments are best for you.
Always engage with repeated users that have previously expressed interest in your product/service. They have a very high buying intent.
What Campaign Types Work Best for Local Business?
Remarketing campaigns
Google Ads remarketing for small business is super helpful as it enables you to reach previous users aka people who are most likely to buy.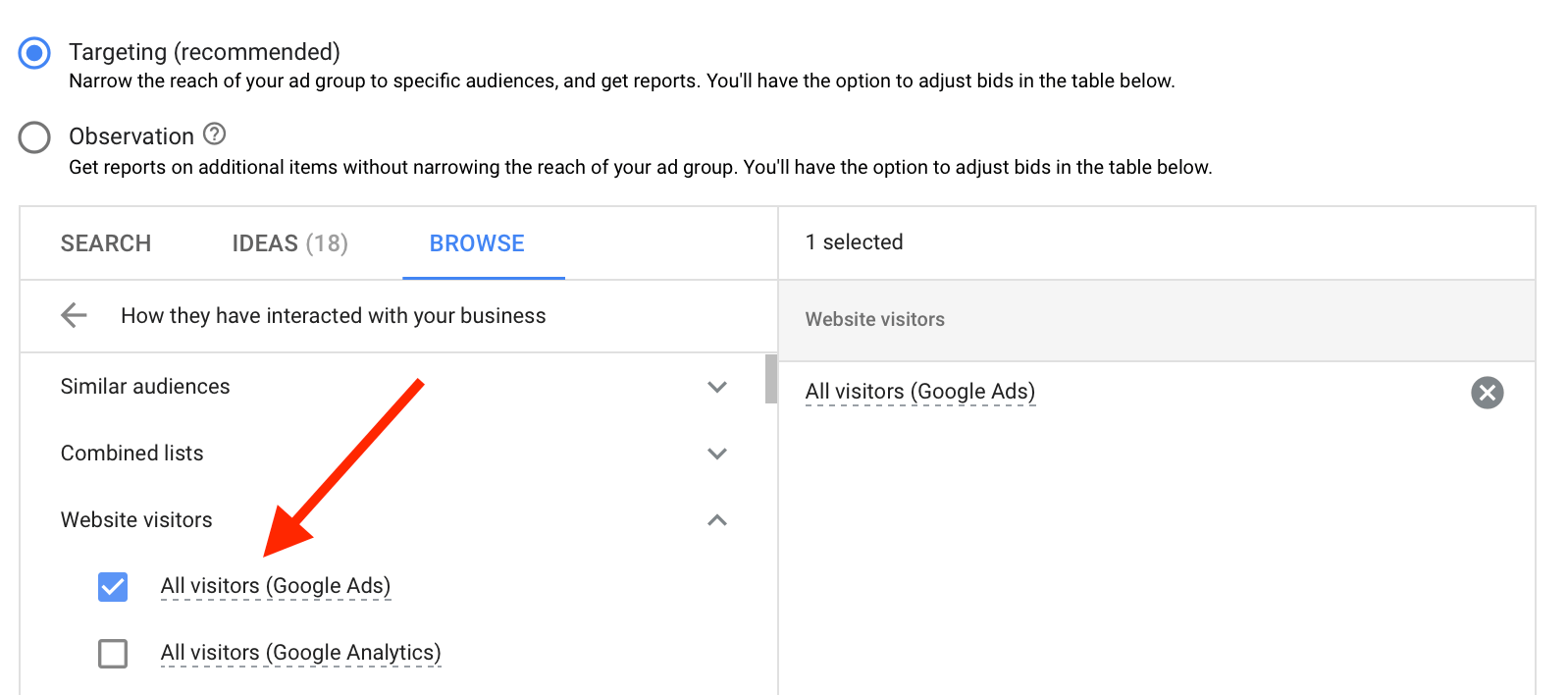 Smart campaigns
Use Google smart campaigns for small business to put an emphasis on your key selling points and lure more customers.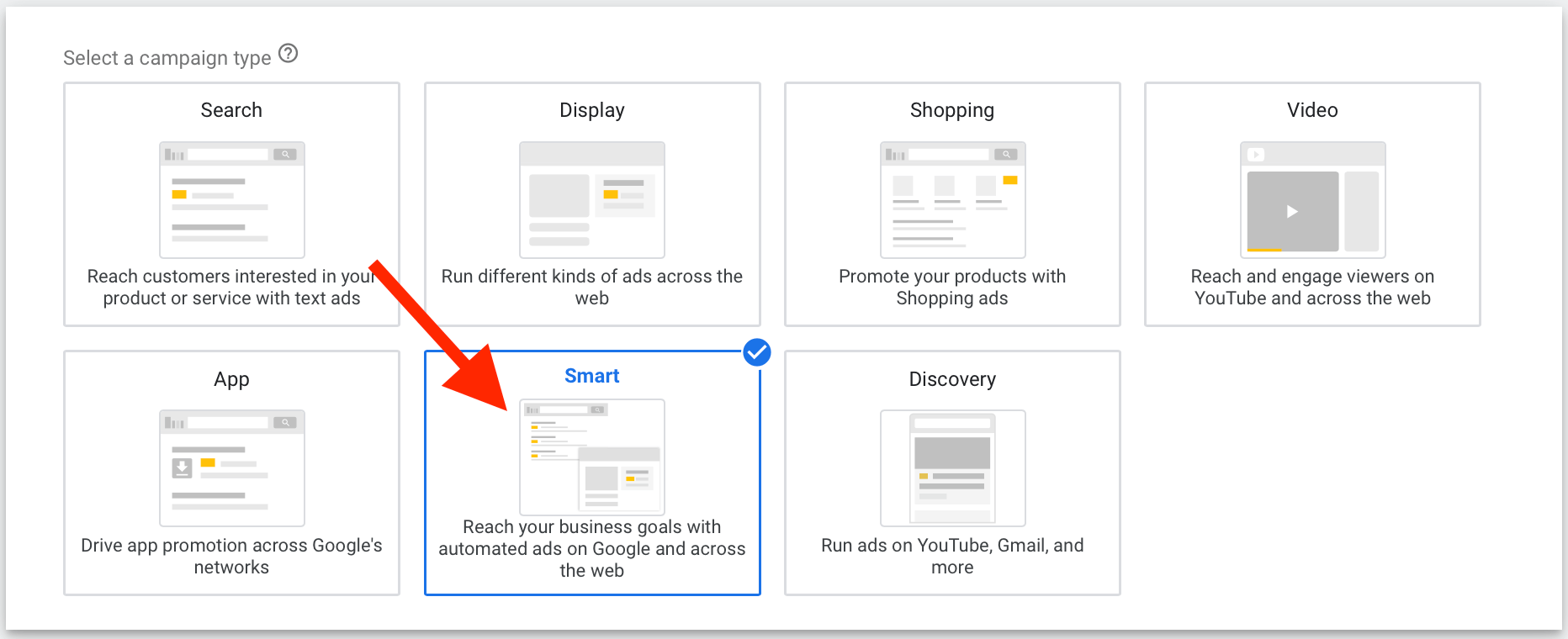 Call-only campaigns
This campaign is used to drive calls to your business rather than clicks to your website. It's perfect for targeting users at the bottom of the funnel.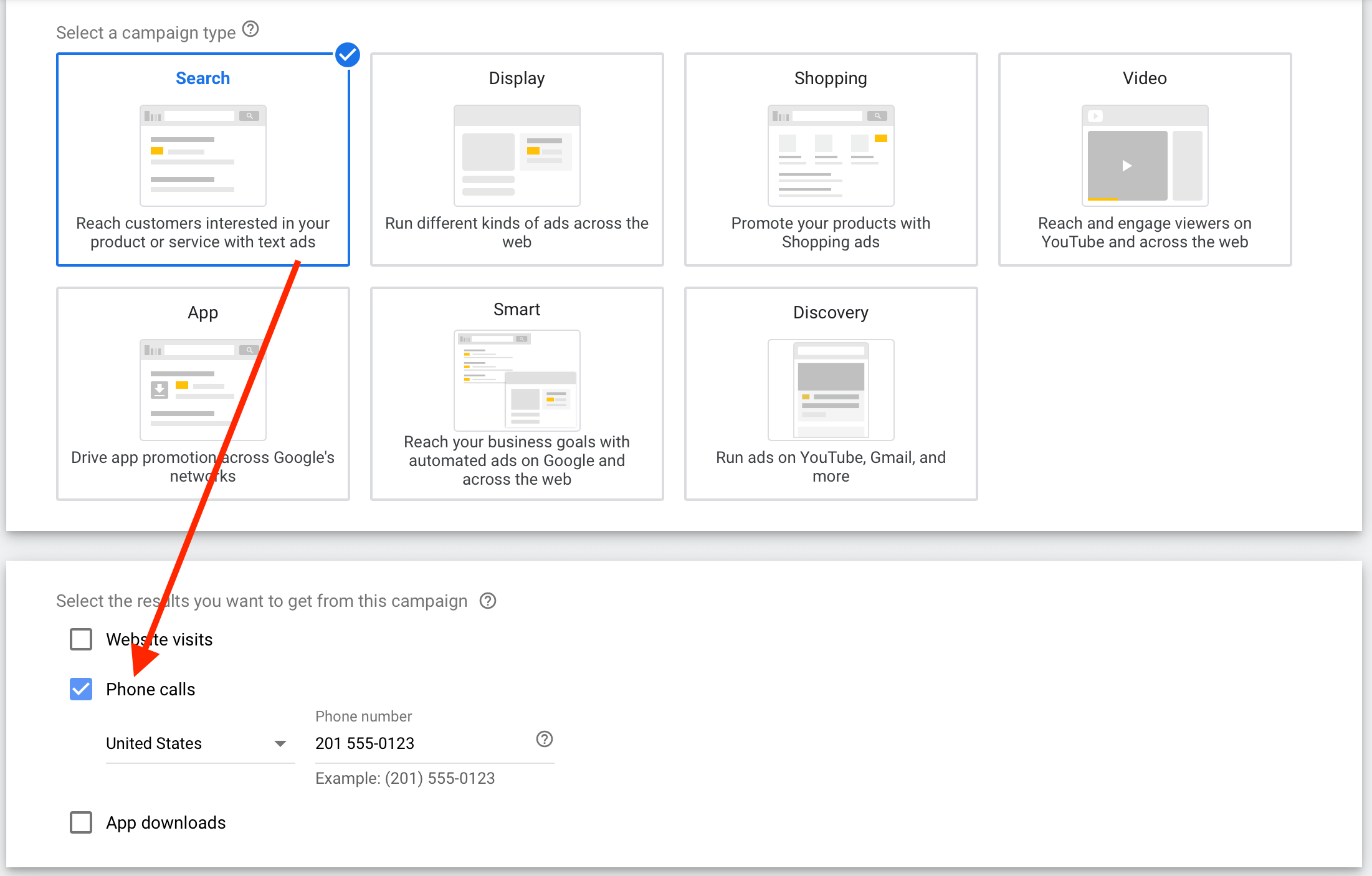 Email Ads campaigns
Email campaigns for small business or Gmail ads are displayed at the top of the users' inbox tabs. This format works well for various campaign goals.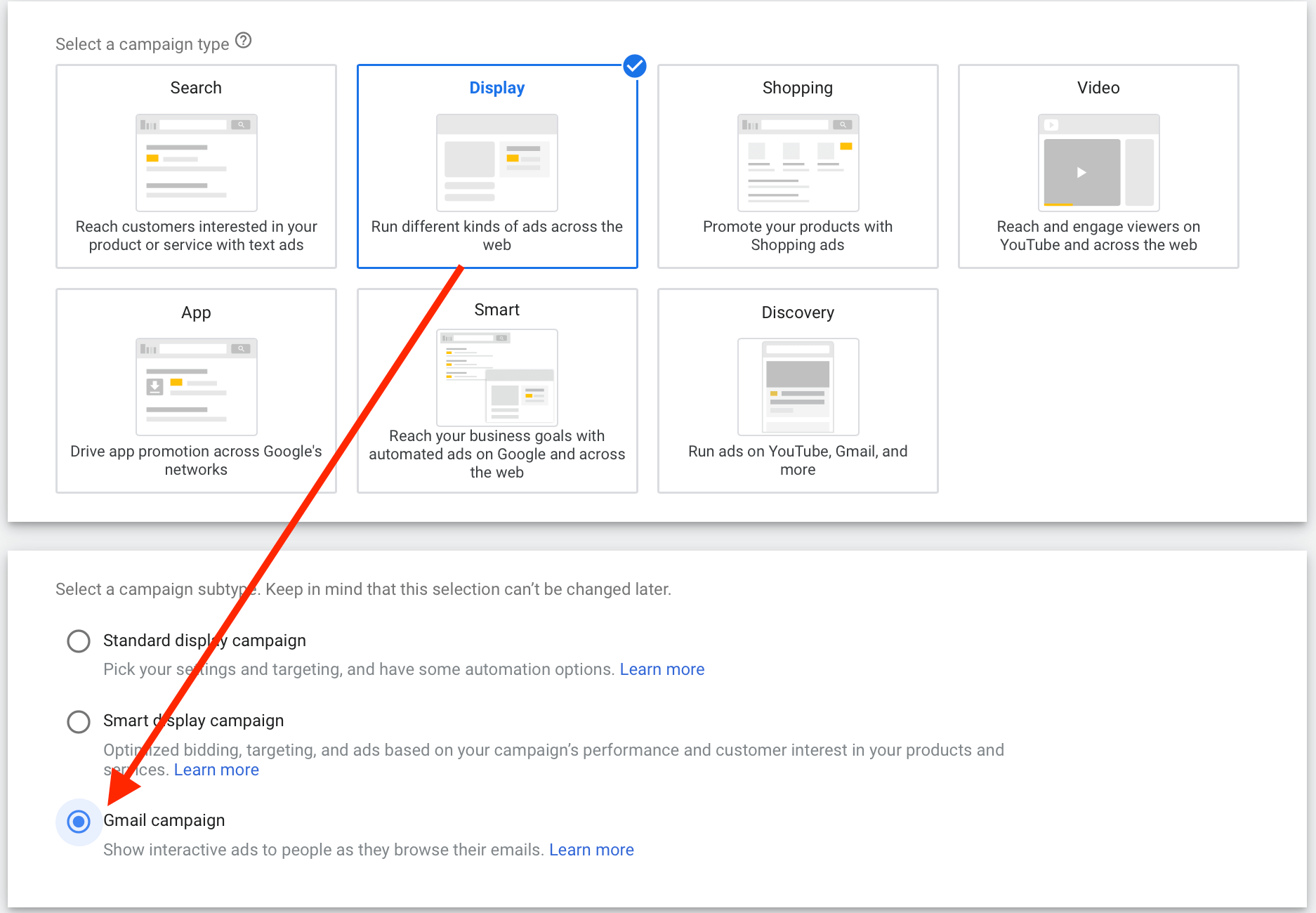 Shopping campaigns
This campaign type is perfect for retailers who want to boost traffic to their stores, find more qualified leads, and promote some products.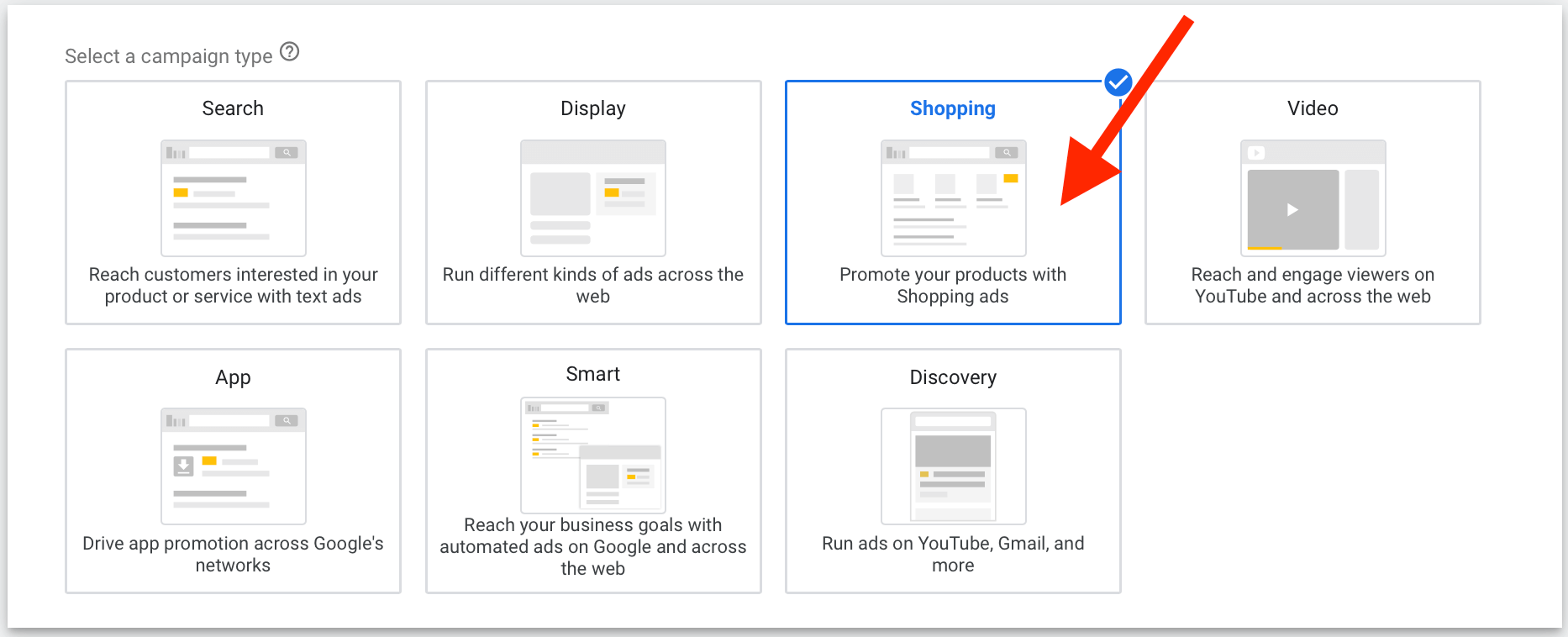 How to Choose the Right Keyword Match Type?
Four different keyword match types help you control which searches can trigger your ad:
broad match;
modified broad match;
phrase match;
exact match.
Choosing the right match type is super important because people type all sorts of weird things in Google. Clearly, you don't want to waste clicks on completely irrelevant queries that happen to include your desired keyword. Use the table below to identify the best keyword match type for your business goals.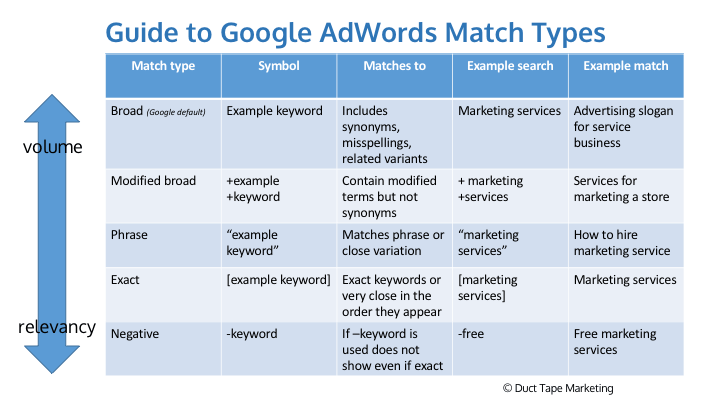 The best strategy for choosing the best match type would be from broad to narrow. Start with broad match keywords to reach the maximum number of users, monitor keywords' performance over time, and adjust the variations leaving the most relevant options. You may want to include a bunch of negative keywords if you don't want your business to show up for words like "discount" or "free". Also, with AI-powered tools like RecommendMe, you'll be able to spot the best-performing keywords much faster.
AdWords Bidding for Small Business
Now let's talk about bidding. There are several bid strategies in Google Ads. You should make this choice based on your targeted network and your business goal, whether it's getting impressions, clicks, or conversions. That said, there's one universal recommendation for everybody, especially Google Ads novices. Don't rely on automated bidding strategies. It's not what you think it is, and there are a couple of critical bid strategy nuances to consider before it can finally bring the desired returns.
Conversion Tracking
Conversion tracking is easily one of the best strategic things you can do to your Google Ads account. To get the most valuable insights based on your business KPIs, try linking your Google Analytics with Google Ads account.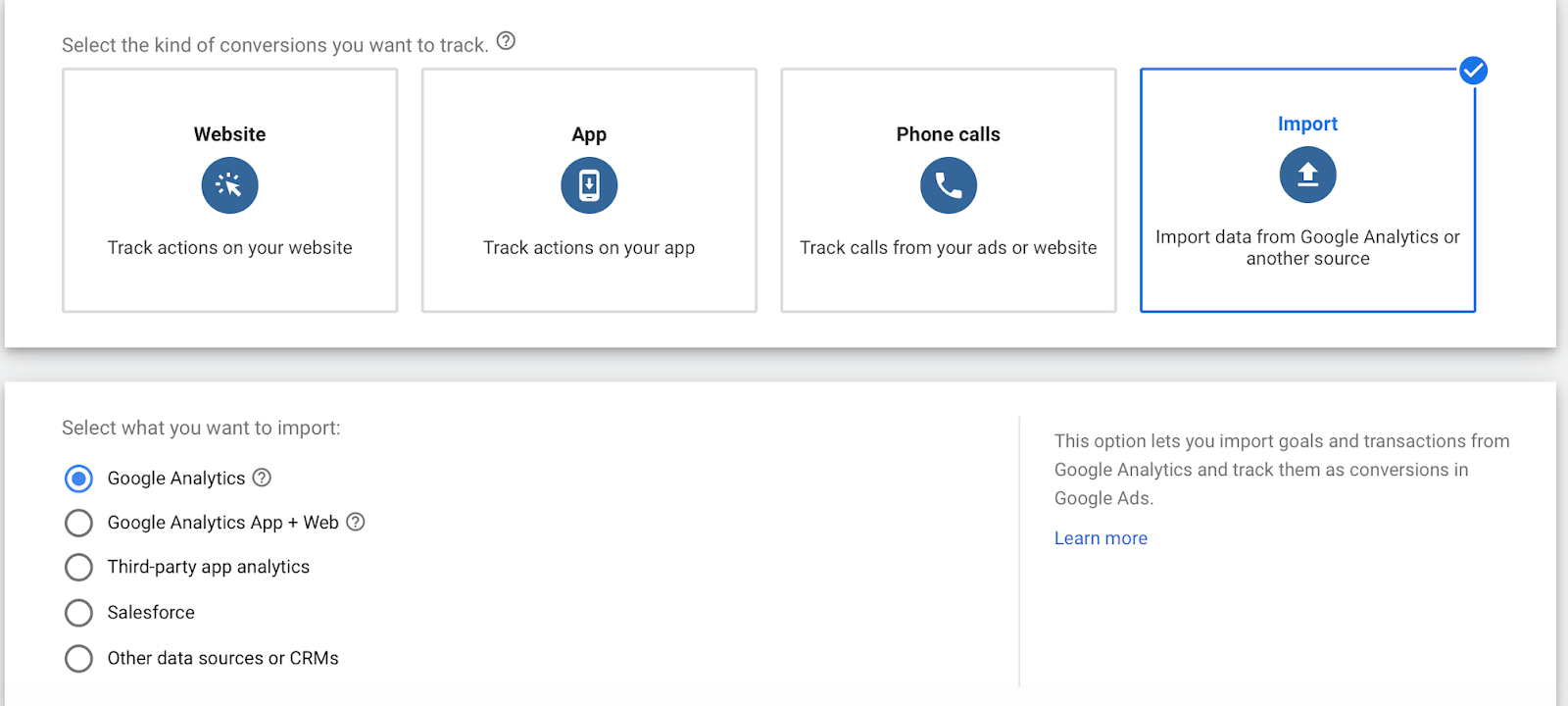 Linking Google Ads and Google Analytics Together
This simple connection can help you understand what visitors do on your site after an ad click or impression and transform this finding into actionable insights. Tracking goals in Google Analytics is also extremely useful for every small business. Linking Google Analytics to Google Ads takes quite a few steps, but the results are worth all the effort.

Google Ads Local Search
One more thing we couldn't overlook is local search. According to Google, the number of search phrases that include "near me" and "near me now" has grown exponentially, which is another piece of good news for local businesses. Use Google Ads to showcase your locations and have more locals come to you.
Here's how it works. Whenever people are looking for the local business (e.g. "grocery store near me"), Google will show them the ad of your business with the address, contact details, working hours, reviews, photos, and other relevant information. Local Google advertising is sure to bring you more visitors.
Conclusion
Google Ads can be a powerful tool for your business. You just need to know how to use it effectively. Take time to research your audience, choose the most relevant campaign type and the right keywords, track progress and adjust on the go, you'll see tremendous progress.